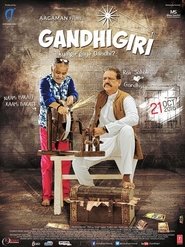 Gandhigiri (2016) Full Movie Hindi Movie
Gandhigiri (Hindi: गांधीगीरी) is a 2016 Indian Hindi-Language film directed by Sanoj Mishra and produced by Pratap Singh Yadav.
What's the importance of Gandhiji's values in today's corrupt world? Do they even have any value left? Can anyone lead a peaceful life by implementing those values in day-to-day life? Questions such as these find answers in Gandhigiri. NRI returned Rai Saheb strongly believes in the principles of Gandhi. Infect his father had played an active role in the freedom struggle and was closely associated with him. After returning to India, Rai Saheb comes across four different people who've walked on the wrong paths and made wrong choices due to various circumstances. The movie beautifully captures the efforts made by Rai Saheb to make them realise the importance of Gandhi ji's values in today's age & time.
Gandhigiri Cast:
Om Puri as Rai Saheb
Sanjay Mishra as Bakait Singh
Brijesh Karniwal as Bansi
Anupam Shyam as Kranti Pandey
Mukesh Tiwari as Natvarlal
Meghna Haldar as Jayanti
Dolly Chawala as Disha
Amit Shukla as Inspector
Rishi Bhutani as Yuvraj
Ravi Singh as Rajaram Pandey
Ram Sujan Singh as Salfas Baba
Naveen Sharma as Dhananjay Panday
Vikrant Anand (guest appearance)
Vijay Raaz (Narrator)
Watch Gandhigiri (2016) Full Movie Hindi Movie Online Free
Duration: 128 min
Release: 2016